More than one person has died after an incident involving a vehicle and stabbings in central London, in what Prime Minister Theresa May has called a "potential act of terrorism".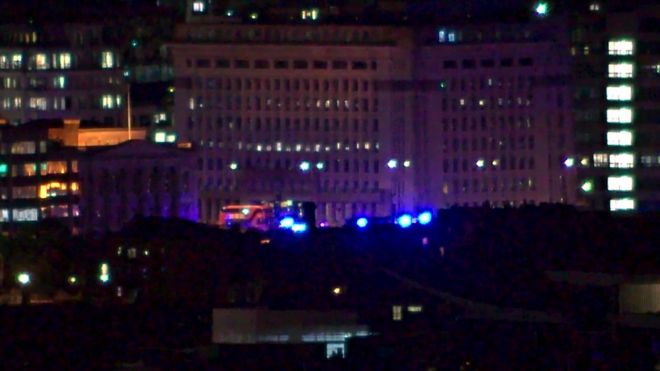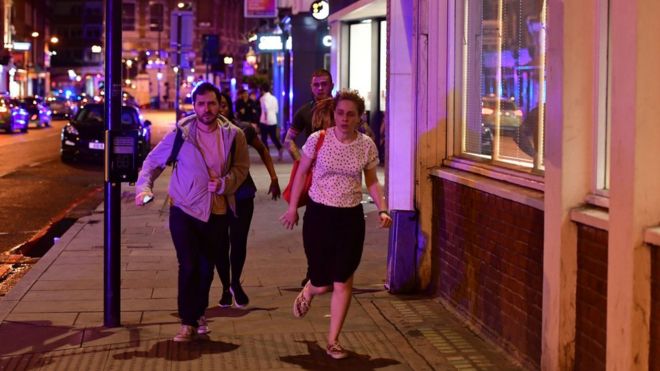 LATEST UPDATE:
Seven people have been killed and at least 48 injured in a terror incident in London in which three male attackers were shot dead by police.
A white van hit pedestrians on London Bridge at about 22:00 BST on Saturday, then three men got out and stabbed people in nearby Borough Market.
Police said the three men were wearing fake bomb vests.
One of those hurt is a police officer who was stabbed after going to help. His injuries are not life-threatening.
The Conservatives, Labour and the SNP have suspended national general election campaigning and the prime minister is chairing a meeting of the government's Cobra emergency committee.
Theresa May described Saturday night's events as "dreadful", while Labour leader Jeremy Corbyn called them "brutal and shocking".
London Mayor Sadiq Khan said it was "a deliberate and cowardly attack on innocent Londoners", but the capital remained the "safest global city" and Londoners would not be cowed by terrorism.
Among the main developments:
More than 80 medics were sent to the scene. The injured, some of them critical, are being treated in five London hospitals
The Met Police has set up a casualty bureau on 0800 096 1233 and 020 7158 0197 for people concerned about friends or relatives
Two Australian citizens "have been directly impacted," says the country's Prime Minister Malcolm Turnbull
At least two French citizens have been injured, according to the French president's office, quoted by Reuters
It is the third terror attack in the UK in three months following the car and knife attack in Westminster in March, which left five people dead, and the Manchester bombing less than two weeks ago, in which 22 people were killed.
Metropolitan Police Assistant Commissioner Mark Rowley said it was believed there were only three attackers involved and the explosive vests they were wearing were "hoaxes".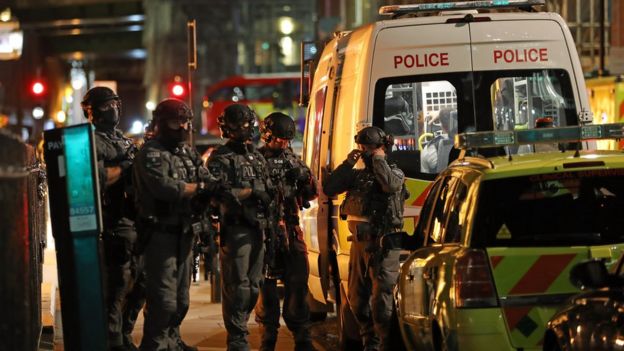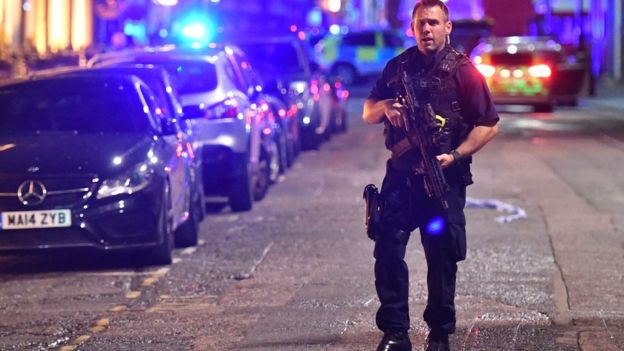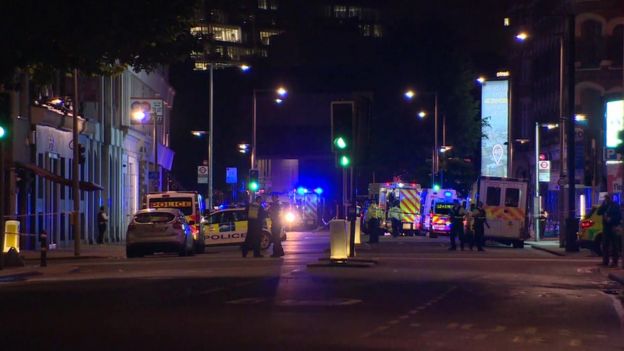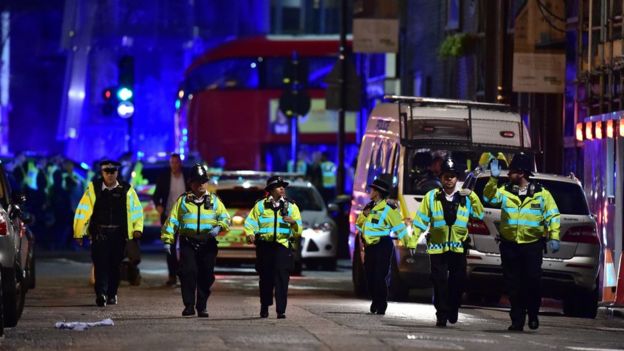 The Met Police said officers were also at Borough Market nearby where they were responding to reports of stabbings.
The force said they were also attending a reported incident in Vauxhall.
TfL said there were further closures in Borough High Street, where armed police were later seen. On the north side of the river, Lower Thames Street was closed
Downing Street said: "The prime minister is in contact with officials and is being regularly updated on the incident at London Bridge."
Reports a van has hit pedestrians on London Bridge in central London, with armed police understood to be at scene
Witnesses have said that armed officers are understood to be at the scene after a white van mounted the pavement before driving into people.
The Metropolitan Police say they are dealing with an incident on the bridge.
Transport for London said the bridge has been closed in both directions due to a "major police incident". Bus routes were being diverted.
About five people were being treated for injuries after the vehicle mounted the pavement and hit them, she said.
The van, which was travelling from the direction of central London, headed towards the south side of the river.
BBC reporter Holly Jones, who was on the bridge at the time of the incident, said the van was driven by a man and was "probably travelling at about 50 miles an hour".
Bus routes were being diverted and Southwark Bridge has also been shut, it added.
Transport for London said the bridge has been closed in both directions due to a "major police incident".
The Met Police say they are dealing with an incident on the bridge and "multiple resources" are in attendance.